A
t
the end of the Cold War until the beginning of 2022 Western Europe is, in geopolitical terms, a protectorate of the US which wholely trusts in that the US would protect it if necessary and which does not do very much for its security itself. Not even NATO-sceptical US-President Trump changed that. Since February 2022, since Russia's invasion of Ukraine, Europeans begin to realize that it's also up to them to strengthen their security and not only to trust in others - others like the US that could once think more in its own geopolitical interests in south-east Asia, where rising China becomes a geopolitical rival, and not so much in protecting their zone of influence in Europe against Russia.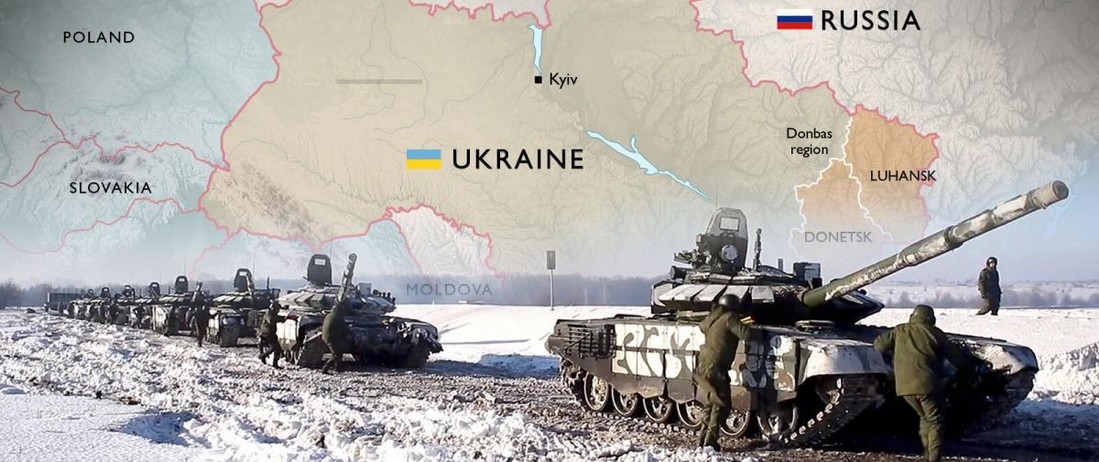 e-mail
: mail(at)europe-superpower.eu
---
Ukrainian forces burst through Russian lines in major advance in the south
, 03.10.2022
Near Kherson in the south of Ukraine a Ukrainian tank offensive achieved a big breakthrough, as they broke through the front and advanced rapidly along the west bank of the Dnipro River in the direction of the town Dudchany, about 30 kilometers to the south. According to Reuters, Vladimir Saldo, the Russian-installed leader in occupied parts of Ukraine's Kherson province told Russian state television: "The information is tense, let's put it that way, because, yes there were indeed breakthroughs". "There's a settlement called Dudchany, right along the Dnipro River, and right there, in that region, there was a breakthrough. […]", he said. As Ukraine already destroyed the bridges crossing the river, a substancial advanve could cut off entirely up to 25.000 Russian troops from their supply lines.
https://www.reuters.com/world/europe/ukraine-celebrates-capturing-key-town-putin-ally-mulls-possible-nuclear-response-2022-10-02/
Ukrainians retake Lyman, situated in newly annexed "Russian" territory (Donetzk)
, 01.10.2022
On Oktober 1st
the Russian Ministry of Defense announces on its website:
Министерство обороны Российской Федерации (Минобороны России):
"
В связи с созданием угрозы окружения союзные войска были отведены из населенного пункта Красный Лиман на более выгодные рубежи."
Ministry of Defense of the Russian Federation (Ministry of Defense of Russia):
"
In connection with the creation of a threat of encirclement, the allied troops were withdrawn from the settlement of Krasny Liman to more advantageous lines."
Liman is an important town because it is a major railway junction in the Kramatorsk agglomeration.
https://z.mil.ru/spec_mil_oper/brief/briefings/more.htm?id=12440098@egNews
ISW Specia
l Report: Assessing Putin's implicit nuclear threats after annexation
, 30.09.2022
Mason Clark, Katherine Lawlor, and Kateryna Stepanenko of the Institute for the Study of War think in this special report that "Putin is attempting to force Kyiv to the negotiating table by annexing Russian-occupied territory and threatening nuclear use." As for a nuclear attack against major Ukrainian population centers, this would highly unlikely force Ukraine or the West to surrender, thus, "Putin is therefore far more likely to use nuclear weapons to change the operational environment, if he uses them at all. We assess Putin has two main tactical nuclear weapon use options: striking key Ukrainian ground lines of communication nodes and command centers to paralyze Ukrainian offensive operations, and/or striking major Ukrainian force concentrations near the line of contact. A single nuclear weapon would not be decisive against either of these target sets. Putin would likely need to use several tactical nuclear weapons across Ukraine to achieve significant effects and disrupt Ukraine's ability to conduct counteroffensives." But even this "would not enable Russian offensives to capture the entirety of Ukraine", as Russia planned at the beginning of its invasion in February. Furthermore, there is the risk that NATO is "likely to respond to Russian nuclear weapon use in Ukraine with conventional strikes on Russian positions there." Thus, "[t]he more confident Putin is that nuclear use will not achieve decisive effects but will draw direct Western conventional military intervention in the conflict, the less likely he is to conduct a nuclear attack."
https://www.understandingwar.org/backgrounder/special-report-assessing-putin's-implicit-nuclear-threats-after-annexation
<<Novaya Gazeta>>
:
The secret clause of the decree on mobilization allows the Ministry of Defense to call up one million people
- 22.09.2022
засекреченный пункт указа о мобилизации позволяет Минобороны призвать один миллион человек
Засекреченный седьмой пункт указа о мобилизации позволяет Минобороны призвать один миллион человек. Об этом «Новой газете. Европа» сообщил источник в администрации президента. […] Собеседник «Новой газеты. Европа» в администрации президента подчеркивает, что сначала обсуждался вопрос занесения под гриф «для служебного пользования» всего текста указа целиком — за это выступали представители Минобороны. Позднее, по словам источника, было принято решение скрыть под грифом только седьмой пункт, в котором действительно шла речь о численности тех, кто должен быть мобилизован.
«Цифру несколько раз исправляли, и в итоге, остановились на миллионе», — уточнил собеседник издания. […]
The secret seventh paragraph of the decree on mobilization allows the Ministry of Defense to call up one million people. About this a source in the presidential administration told
to "Novaya Gazeta. Europe"
. […] The interlocutor of "Novaya Gazeta. Europe" in the presidential administration emphasizes that at first the issue of entering the entire text of the decree under the heading "for official use" was discussed - this was advocated by representatives of the Ministry of Defense. Later, according to the source, it was decided to hide under the heading only the seventh point, which really dealt with the number of those who should be mobilized.
"The figure was corrected several times, and in the end, they settled on a million," the source said. […]
https://novayagazeta-eu.cdn.ampproject.org/c/s/novayagazeta.eu/amp/articles/2022/09/22/istochnik-zasekrechennyi-punkt-ukaza-o-mobilizatsii-pozvoliaet-minoborony-prizvat-odin-million-chelovek-news
here the decree
- Указ «Об объявлении частичной мобилизации в Российской Федерации»
kremlin.ru/events/president/news/69391
Analysts skeptial about Russia's partial mobilisation
Regarding Putin's announced partial mobilisation analysts of the Russia-Ukraine war are skeptikal: Thus Michael Kofman, a military analyst and head the Russia Studies Program at the U.S.-based think tank CNA, said on September 21: Mobilization "may extend the Russian ability to sort of sustain this war but does not change the overall trajectory and outcome".
The analysts of the Institute for the Studies of War write on September 22: "The Kremlin's heavy-handed approach to partial mobilization may successfully meet the Kremlin's internal quota of mobilized personnel but is unlikely to generate effective soldiers and is prompting significant domestic backlash for little gain."
And the UK Ministry of Defence thinks that the new troops are unlikely to be combat effective for months and that the political risk for Putin is considerable: "Russia is likely to struggle with the logistical and administrative challenges of even mustering the 300,000 personnel. It will probably attempt to stand up new formations with many of these troops, which are unlikely to be combat effective for months. Even this limited mobilisation is likely to be highly unpopular with parts of the Russian population. Putin is accepting considerable political risk in the hope of generating much needed combat power. The move is effectively an admission that Russia has exhausted its supply of willing volunteers to fight in Ukraine."
Radio Free Europe Radio Liberty: No Game Changer: Russian Mobilization May Slow, Not Stop, Ukrainian Offensive, September 22, https://www.rferl.org/a/russia-mobilization-ukraine-offensive-analysis/32046211.html
ISW, 22.09.2022, https://www.understandingwar.org/backgrounder/russian-offensive-campaign-assessment-september-22
UK Ministry of Defence, Intelligence update, 22.09.2022, https://twitter.com/DefenceHQ/status/1572828263810056192
How Ukraine got the upper hand against Russia, 17.09.2022
Mason Clark, ISW Russia Team Lead, explains that as the Kremlin is calling its war against Ukraine a "special military operation", it cannot simply call up conscripts for this invasion, and instead tries to fill the gaps with more mercenaries and prisoners. Russia sent many of these men with little training to the frontline. Meanwhile, Ukraine was able to quickly train lots of volunteers with the help of its western allies before sending them to the front. Thus, Ukraine produced very effective soldiers, better than the Russian ones. Throughout the summer Ukrainian leaders talked a lot about their plans to launch an attack - an attack in Kherson in the south. They moved many troops there and used their most modern weapos to hit the Russians for weeks. So, the Russians also moved their troops to Kerson. But with this they left the north-east vulnerable since it was mostly guarded by those inexperienced soldiers. So, when the Ukrainians did strike their attack in early September, they didn't hit much resistance there. Almost as soon as the Ukrainian soldiers began the attack, the Russian forces began to flee, left weapons, munitions and tanks behind. While the Russians retreated Ukraine took over all this territory which included some important towns as Izyum and Kupiansk, which were important for the Russian supplies.
https://www.youtube.com/watch?v=L7INxfISGFs
Russian officials are increasingly blaming the Russian Ministry of Defense (MoD) for Russian failures on the frontlines:
Kadyrov criticises russian MoD for surrendering Izium, Kupiansk and Balaklia
, 11.09.2022
Ramzan Kadyrov, the governor of Russia's Chechnya, criticised "the strategy" of Russia's Defence Ministry and said he would "reach senior-most officials to spell out his message" if there are no changes into Russia's military plans, as per his
Telegram. "I'm not a strategist like those in the Defence Ministry. But it's clear that mistakes were made. I think they will draw a few conclusions". "If today or tomorrow no changes are made to the conduct of the 'special military operation', I will be forced to contact the country's [Russia's] leadership, the Ministry of Defence, and explain the situation on the ground to them. It is very interesting."
мундепы требуют отставки путина, 12.09.2022
Russian municipal deputies demand Putin's resignation
обращение депутатов
мы муниципальные депутаты россии считаем что действия президента в.в. путина наносят вред будущему россии и ее гражданам. требуем отставки владимира путина с поста президента рф!
Deputies' appeal
We, municipal deputies of Russia, believe that the actions of President V.V. Putin is harming the future of Russia and its citizens. We demand the resignation of Vladimir Putin from the post of President of the Russian Federation!
https://twitter.com/kseniathorstrom/status/1569224895216730114
Kadyrow:
https://novayagazeta.eu/articles/2022/09/11/kadyrov-criticises-russian-mod-for-surrendering-izium-kupiansk-and-balaklia-news
Ukraine starts Kharkiv-Izyum offensive in the north-east
, 09.09.2022
"Ukrainian forces have captured an estimated 2,500 square kilometers in Kharkiv Oblast in the Kharkiv counteroffensive as of September 9", write the Institute for the Study of War and Critical Threats at this time. "Ukrainian forces reached the outskirts of Kupyansk and are advancing on Izyum from the northwest, north, northeast, and southeast as of September 9 and will likely sever Russian ground lines of communication (GLOCS) to Izyum within the coming days." "The Kremlin is rushing resources to the Kharkiv City-Izyum line in an attempt to halt Ukrainian advances after Ukrainian forces achieved remarkable operational surprise." "Ukraine's counteroffensive operation in Kherson Oblast to degrade Russian forces on the Southern Axis is continuing simultaneously with Ukrainian operations on the Kharkiv City-Izyum line." "Russian forces conducted ground assaults north of Kharkiv City and across the Eastern Axis." -
https://www.criticalthreats.org/print/ana_631c08f2efd35
Ukraine's counteroffensive in Kherson - tactical assessment
, 01.09.2022
Lieutenant Colonel Justin Conelli, an active-duty US Air Force fellow at the Atlantic Council's Scowcroft Center for Strategy and Security, about the coming weeks of Ukraine's counteroffensive in Kherson: "My expectation is we will see a period of time with more overt shaping operations aimed at further weakening Russian defenses and supply lines rather than a full-scale conventional raid to retake terrain. Similarly, Ukraine may look to leverage these shaping operations to enhance its logistics and sustainment capabilities close to the front lines in Kherson, allowing for the resupply of any regained territory. Increasing placement and access closer to the line of contact will enable Kyiv to continue executing its so-far successful asymmetric air-defense model (
for example, using ground-mobility tactics with air-defense systems to target Russian aircraft and avoid detection)."
https://www.atlanticcouncil.org/blogs/new-atlanticist/could-ukraines-new-counteroffensive-kick-russian-troops-out-of-kherson/
Ukrainian drone attack on Russian Black Sea Fleet Headquarters
, 20.08.2022
Mikhail Razvozhaev, Russian-appointed Governor of Sevastopol, wrote on Telegram about the Ukrainian drone attack on the Russian Black Sea Fleet Headquarters in Sevastopol (at 07:42):
"Нахожусь в штабе флота. 25 минут назад в крышу прилетел беспилотник. К сожалению, сбит не был, хотя над бухтой работали стрелковым оружием. Шёл низко. Жертв нет."
("I am at the headquarters of the fleet. A drone flew into the roof 25 minutes ago. Unfortunately, it was not shot down, although they used small arms on the bay. Went low. There are no victims.")
But half an hour later, at 08:15, he corrected himself, writing: "Уточнение: беспилотник был отработан ПВН, (пост воздушной обороны флота). Сбили БПЛА прямо над штабом флота. Упал на кровлю и загорелся. Поражения не получилось. Молодцы ребята."
("Clarification: the drone was eliminated by the PVN, (post of the air defense of the fleet). They shot down an UAV right above the fleet headquarters. It fell on the roof and caught fire. The defeat failed. Well done boys.")
t.me/razvozhaev/901 ; t.me/razvozhaev/905
Russians not in control of the situation i
n Crimea
, 19.08.2022
After several incidents in Crimea the Ukrainian Center for Strategic Communications writes on Telegram "[…] it is now obvious that the occupiers do not control the situation on the occupied peninsula. The leading collaborators are already hastily evacuating their families from Crimea - they even blocked the Crimean bridge for this. For the first time during the war, Sevastopol appeared on the map of air alarms. […] The Crimean bridge turned out to be not as safe as the Russians believed. But we haven't even started with the bridge yet. [...]"
"[…] тепер вже очевидно, що окупанти не контролюють ситуацію на окупованому півострові. Провідні колаборанти вже поспіхом вивозять свої сім'ї з Криму – для цього навіть перекривали Кримський міст. Вперше за час війни на карті повітряних тривог з'явився Севастополь. […] Кримський міст виявився не таким безпечним, як переконували росіяни. Але з мостом ми ще навіть і не починали. [...]"
https://t.me/spravdi/15583
The military leadership o
f the Russian Federation fled from Kherson
- 14.08.2022
>The majority of the Russian military command has left Kherson. This was announced by the First Deputy Chairman of the Kherson Regional Council Yuriy Sobolevskyi on the air of the telethon. Commenting on the situation in the region, the fact that Ukrainian artillery destroyed all bridge crossings across the Dnipro, he said: "I can confirm this. Indeed, as of today, the Orks [Russians] don't have a single supply route that would be safe and could specifically satisfy the need to supply the concentration of their troops deployed near Kherson."<
>Військове керівництво РФ втекло з Херсона - 14 серпень 2022
Більшість військового командування росіян виїхало з Херсона. Про це повідомив перший заступник голови Херсонської обласної ради Юрій Соболевський в ефірі телемарафону. Коментуючи ситуацію в області, те, що українська артилерія знищила всі мостові переправи через Дніпро, він сказав: "Я можу це підтвердити. Дійсно, сьогодні в орків не існує жодного логістичного маршруту безпечного і такого, який би задовольняв їхні військові потреби саме по забезпеченню військового угруповання, яке розташовано саме біля Херсона".<
https://www.bbc.com/ukrainian/live/news-62514361 (20:17)
Russian troops on west bank of Dnipro cut off from resupply via primary bridges now,
13.08.2022
"The two primary road bridges giving access to the pocket of Russian occupied territory on the west bank of the Dnipro in Kherson Oblast are now probably out of use for the purposes of substancial military resupply. On 10 August 2022, Ukrainian precision strikes likely rendered the road crossing of the Dnipro River at Nova Kakhovka unusable for heavy military vehicles. In recent days, Russia has only succeeded in making superficial repairs to the damaged Antonivsky road bridge which likely remains structurally undermined. Last week, the main rail bridge near Kherson was also further damaged. Since late July 2022, Russia has been using a pontoon ferry near the railway bridge as its main military resupply route. Even if Russia manages to make significant repairs to the bridges, they will remain a key vulnerability. Ground resupply for the several thousand Russian troops on the west bank is almost certainly reliant on just two pontoon ferry crossing points. With their supply chain constrained, the size of any stockpiles Russia has managed to establish on the west bank is likely to be a key factor in the force's endurance."
UK Ministry of Defence Intelligence update 13.08.2022: https://twitter.com/DefenceHQ/status/1558330118317162503
Crimea airfield blast work of Ukrainian special forces?
10.08.2022
On 10th August the Washington Post cites a Ukrainian government official who said that the attack on the Russian Saki air base on Crimea on 9th August "was the work of Ukrainian special forces". Nine Russian military planes were destroyed in at least three explosions at the air base. As Crimea is a key logistics hub for Russian operations in the south, the main transit point for troops, equipment and ammunition reinforcing and supplying the Kherson area, the attack could have a profound impact on Russia's ability to maintain its control over southern Ukraine. Exactly what caused the explosions at the base remains a source of speculation, but according to Russian officials, two weeks ago another strike against Crimea was carried out by a drone. Thus, some military experts suspect this attack may also have been carried out by a drone, perhaps operated by covert forces hidden nearby. Or that saboteurs planted explosives. As for missiles, they could have caused the damage, but Ukraine is not known to have missiles with the necessary range of at least 140 miles, the distance of the front line from the Saki base. Refering to Oleksiy Danilov, secretary of Ukraine's National Security and Defense Council, the Washington Post writes that Ukrainian partisans, led by special operations forces, have been stepping up activities aimed at disrupting Russia's logistics, administration, and command and control.
https://www.washingtonpost.com/world/2022/08/10/ukraine-russia-crimea-beach-blast/
continue reading: tab Russia's war in Ukraine